July 2023 calendar printable are shared here indifferent designs and format. Available for free download and ready to print. Check out the collection of July month calendar templates and download a suitable one for your use. Get the free July 2023 calendar here and plan the work activities of the entire month. Just like this month, you can print off the August 2023 calendars as well. A calendar helps you to make a note of these important days and plan the monthly work activities.
We have shared the high resolution printable calendars only. Each calendar has perfect colors and fonts which give an extra feel to your notes. Download the useful printable calendars here and share them with your friends and family as well.
July 2023 Printable Calendar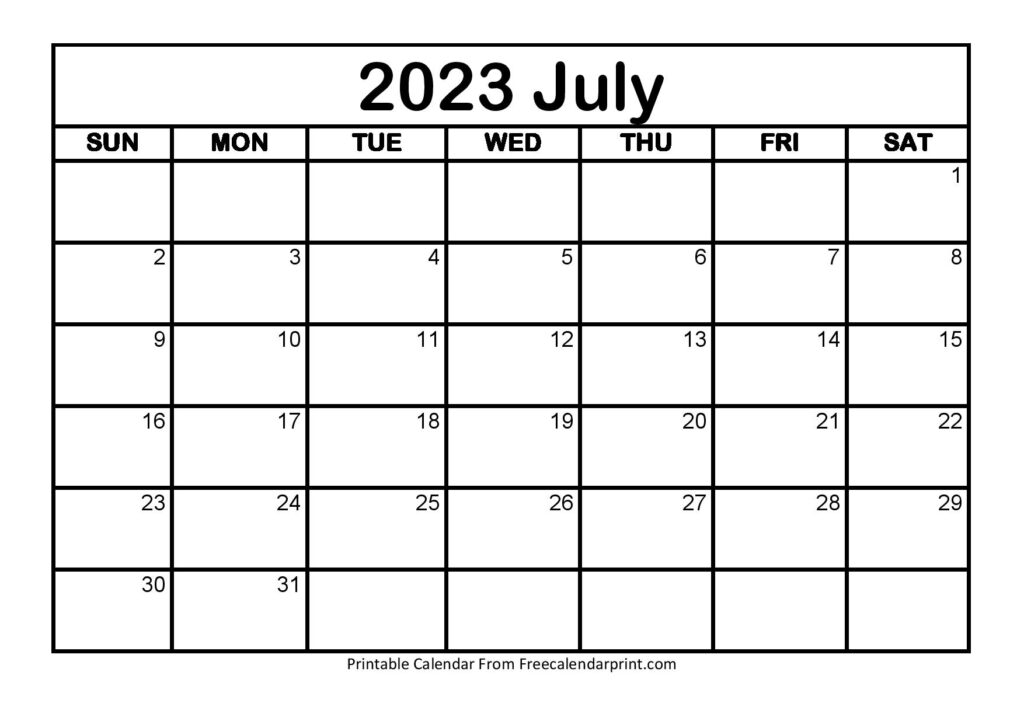 We have designed these printable calendars and made them available for free download in PDF format. You can download a calendar from this page by clicking on the download button. Get blank July 2023 calendar for free from here and open it with the .pdf reader and enjoy the printable 2023 calendar.
Blank July 2023 Calendar Printable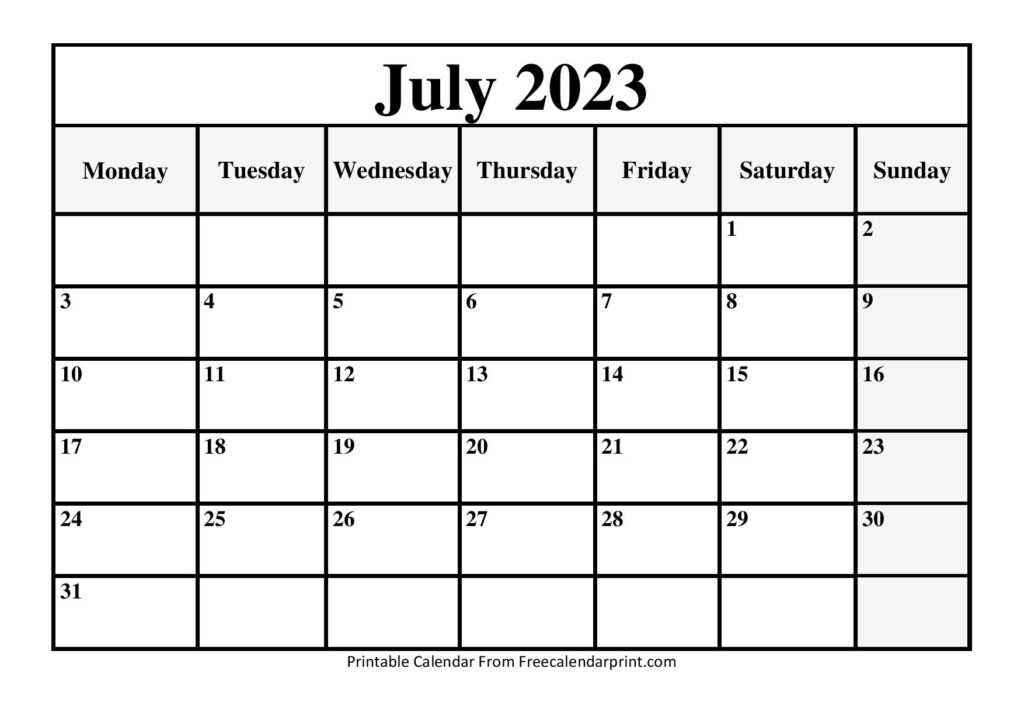 These type of calendars are suitable for everyone's use from a student to a working professional. As you can see there is an extra space on each calendar where users can write down their personal and working schedule. Use any of the calendar template from here to make a schedule for your daily activities. There is enough room in the calendar for holidays, birthdays, and other important dates as well.
Any changes can be made in a calendar. Feel free to download and use any of the printable calendar templates from this page and use them for your work purposes.
Printable Calendar July 2023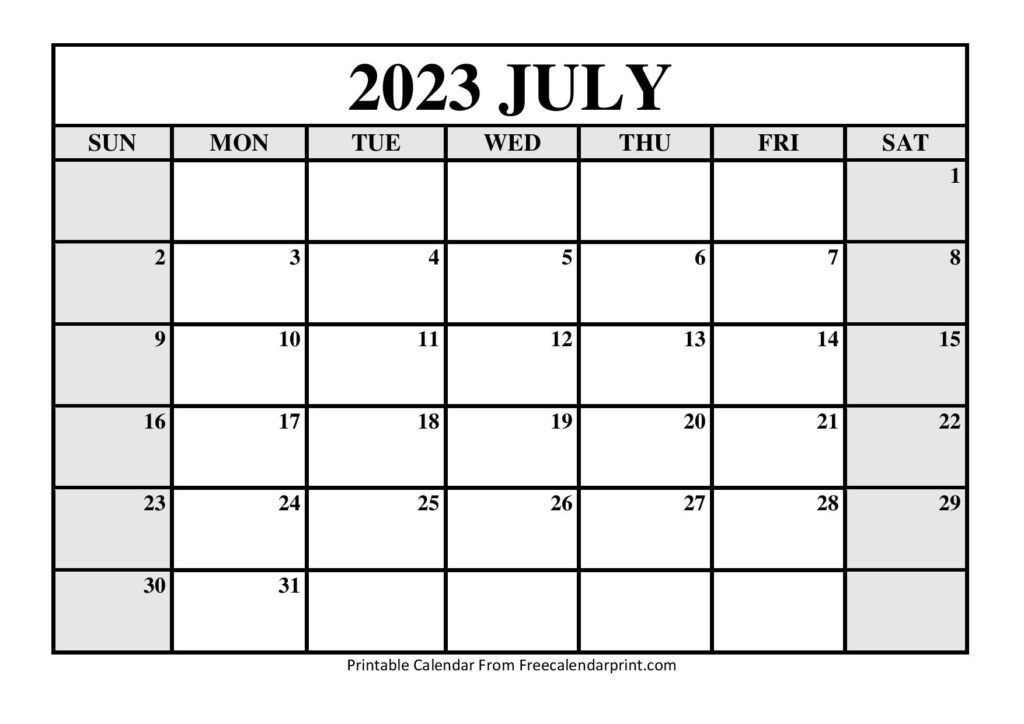 Free Printable July 2023 Calendar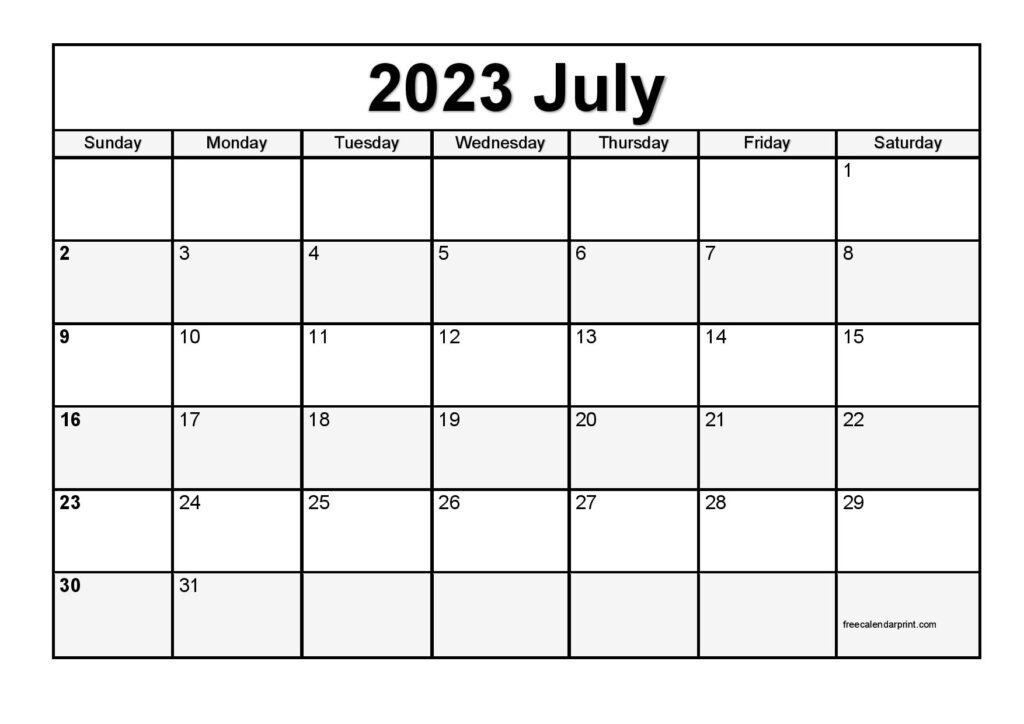 Holidays & Events in July 2023
There is one Federal Holiday in this month i.e. Independence Day which is observed on Tuesday, July 04, 2023. Please note, here we have mentioned the federal holiday only, there could be local observances and events as well. Keep a check on the local events as well to plan them well.
July 04 2023: Independence Day
Independence Day is a federal holiday in the United States commemorating the Declaration of Independence, which was ratified by the Second Continental Congress on July 4, 1776, establishing the United States of America.
A holiday calendar is required for planning the holidays. This calendar is suitable when it comes to planning any vacation or outing. Make the most out of your holidays by having fun with your friends and family. Make your holidays more fun and productive using the printable calendars from this page.
Free Calendars
Conclusion
July is the seventh month of the year. This month marks the beginning of the second half of the year. In order to keep yourself organized and focused in this month, you can download the printable July 2023 calendars available for free download on this page. Grab any printable calendar from this page, download it, and take a print-out as well.